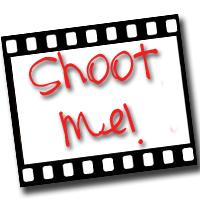 Shoot Me! It's time to stop hiding behind that camera of yours. Your family is missing you in the picture. So it's time to post a picture of YOU (yes, you) every Thursday with your child, your spouse, your friend, your dog, or even by yourself. Just get in the picture, you'll be glad you did! And just jump in now with 1 of 52, you can do it!
Another hot and humid day week. Just the right kind for swimming all day long. Only taking breaks for food, water and 'because Mom said so' :) The kids would be in the pool all day if we'd let them. They swim until it's dark.. like this night.
The other evening we worked on shots for Daddy's 2nd album (almost ready to hit the press!). Katie held my other camera and snapped her own shots. After she would take a shot, she would say: "Argh! I almost got your head Daddy!" "Ohh.. I got your boots Daddy!" "opps.. I missed that one!" "Daddy.. quit moving!" :)
I have lots of pics to catch up on. But they'll have to wait until I have another free moment!