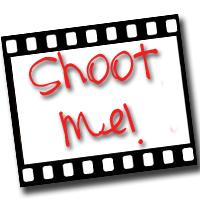 Shoot Me! It's time to stop hiding behind that camera of yours. Your family is missing you in the picture. So it's time to post a picture of YOU (yes, you) every Thursday with your child, your spouse, your friend, your dog, or even by yourself. Just get in the picture, you'll be glad you did! And just jump in now with 1 of 52, you can do it!
This is me us in real life. What you see is what you get. It's hot (100*), humid and sunny. And the pool in the back ground.... we (meaning the kids and me) spend most of our time in it.

(Daddy joins us when he gets home)

Little swimming suits, T-shirts, towels, caps and water toys are a common sight on our deck yard. So are water bottles. There's no denying... it's SUMMERTIME... southern style!!!